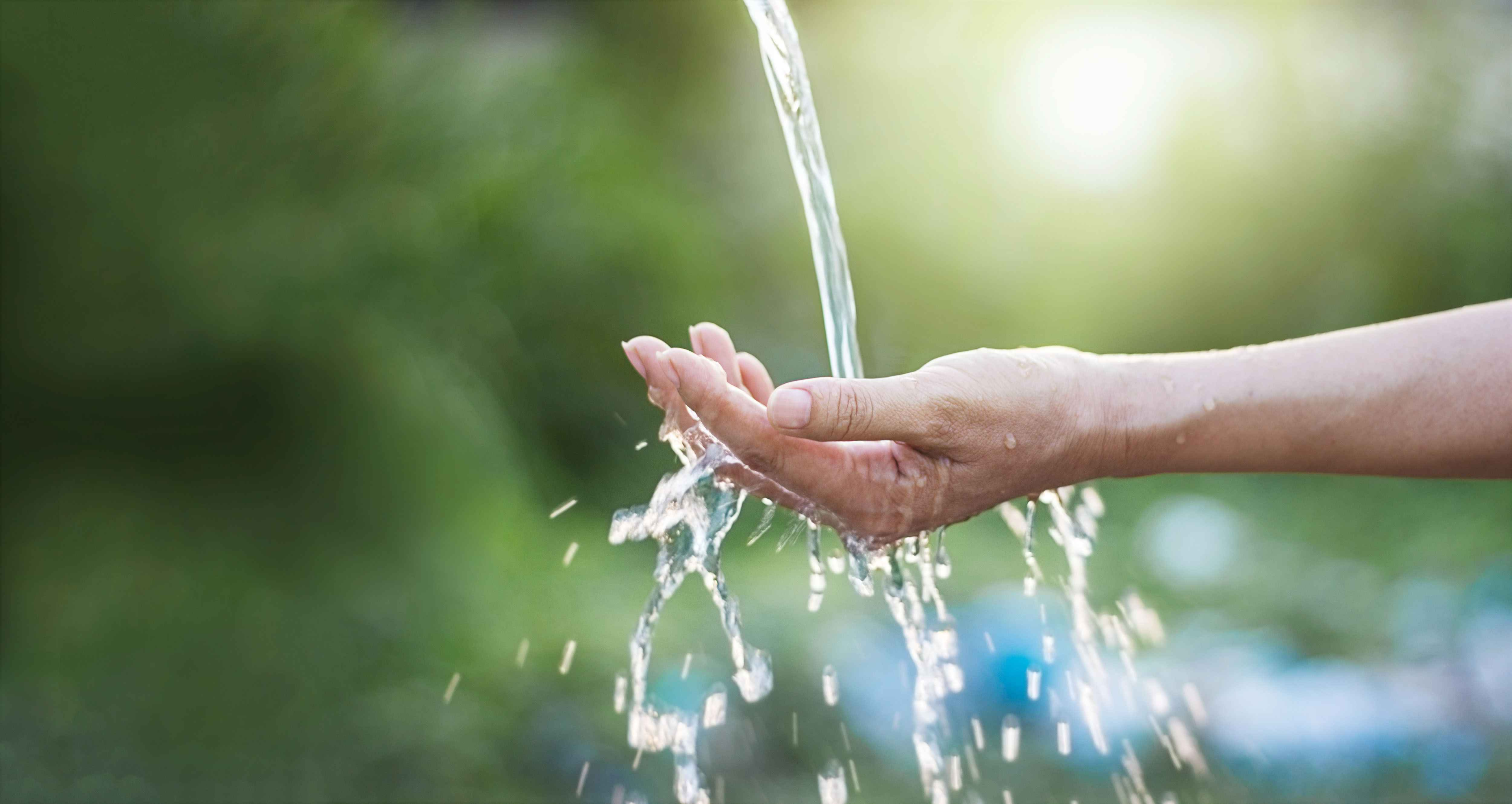 Anyone on the go, whether at a construction site, camping trip or outdoor event, often finds that washing their hands is not always easy. Yet the desire for washed hands is sometimes extremely pressing. Who doesn't know it when your hands are sticky, maybe from putting on suntan lotion and you want to get rid of that sticky feeling?! Or you just pulled over on the road to change your baby's diaper and want to eat your sandwich afterwards? Difficult combination, if you can not wash your hands in between.

In this article, you'll learn how to never again find yourself asking, "Where on earth can I wash my sticky, dirty and infectious hands?
Mobile hand wash basin: Wash your hands when and where you want
Mobile hand wash basins are the perfect solution so you can wash your hands when and where you want. Why? Because you don't need a water connection, a drain or electricity. This makes you self-sufficient and you can always ensure the necessary hygiene even when you are on the road.
In these moments your mobile sink will save you
😅 In the camper your mobile sink embellishes your van life considerably. Whether for washing dishes or washing hands, a camping sink is one of the feel-good basics.


😅 On the road with the car it is ultra practical to be able to wash your hands self-sufficiently at any time. Be it before and after eating; after picking up your dog's poop; after changing a diaper or after accidentally spilling your favorite drink from the drive thru.


😅 In the allotment, the mobile sink is useful at least twice. Because you need a solution so that you, your family and friends can wash their hands with soap after using the toilet. And on the other hand, nobody wants to pack the used dishes, wash them at home and then drive back to the allotment. With the mobile sink, you can quickly do the dishes without illegally producing sewage.


😅 On construction sites you finally have convenient access to "running" water, not only to wash your hands after the toilet, but also to get rid of sawdust, plaster residues as well as wall paint. Finally, you don't have to wipe your hands on the same dirty rag as all the other workers.


😅 Water is often missing in the garage. That's pretty annoying when you're wrenching on your cars, touching oily and dirty stuff, and sitting in your fancy everyday car afterwards. With a mobile sink, you'll never have to sit behind the wheel with oil-smeared hands again and will have even more fun tinkering in the future.


😅 At home in case of power failure/blackout, you can make the situation more comfortable for you, your family and friends with a mobile sink. Because you won't always need a second person to awkwardly pour water from a canister over your hands because you want to wash your hands. Also, washing up will be less acrobatic with a travel sink in emergency situations.


😅 When fishing, after you gut the fish, you can wash both the fish and your bloodied hands.


😅 On the boat, you ensure with a mobile hand wash basin that your friend likes to come along on every trip, because it is no problem to wash your hands after going to the toilet.


😅 At the festival: Who does not know the problem with toilets and hand washing at the festival! With your mobile sink you have clean hands and depending on your choice also a seat with it :)
Advantages of mobile hand wash basins
Portable and easy to transport


No electricity or water connection required


Hygienic solution for on the go


Suitable for indoor and outdoor use
What you should look for when buying a travel washbasin
✅ Sustainability: For the love of nature, make sure your travel sink is sustainable. That means recycled materials, reusable and chemical-free. Sustainable also means durable, so your mobile sink needs to be sturdy and well-made.


✅ Stability: so that you don't cause a tsunami either in the camper or in the car or wherever you use your mobile sink, your hand wash basin should be stable.


✅ Compact size: To save space and to be able to take your hand wash basin with you everywhere, it needs a compact size.


✅ Sufficient filling capacity: To avoid having to fill your fresh water tank and empty the waste water tank after every single hand wash, you need a hand wash basin with sufficient volume in the tanks.


✅ Ready to use quickly: People are lazy, so for any gadget to be worthy of the name "solution", it must also be ready to use in a flash. Otherwise, you will rarely and unwillingly use your hand sink.


✅ Easy to clean: So that you can clean your hand wash basin from greasy washing up water, it should be very easy to wipe out.
BOXIO-Wash: The mobile washbasin without water connection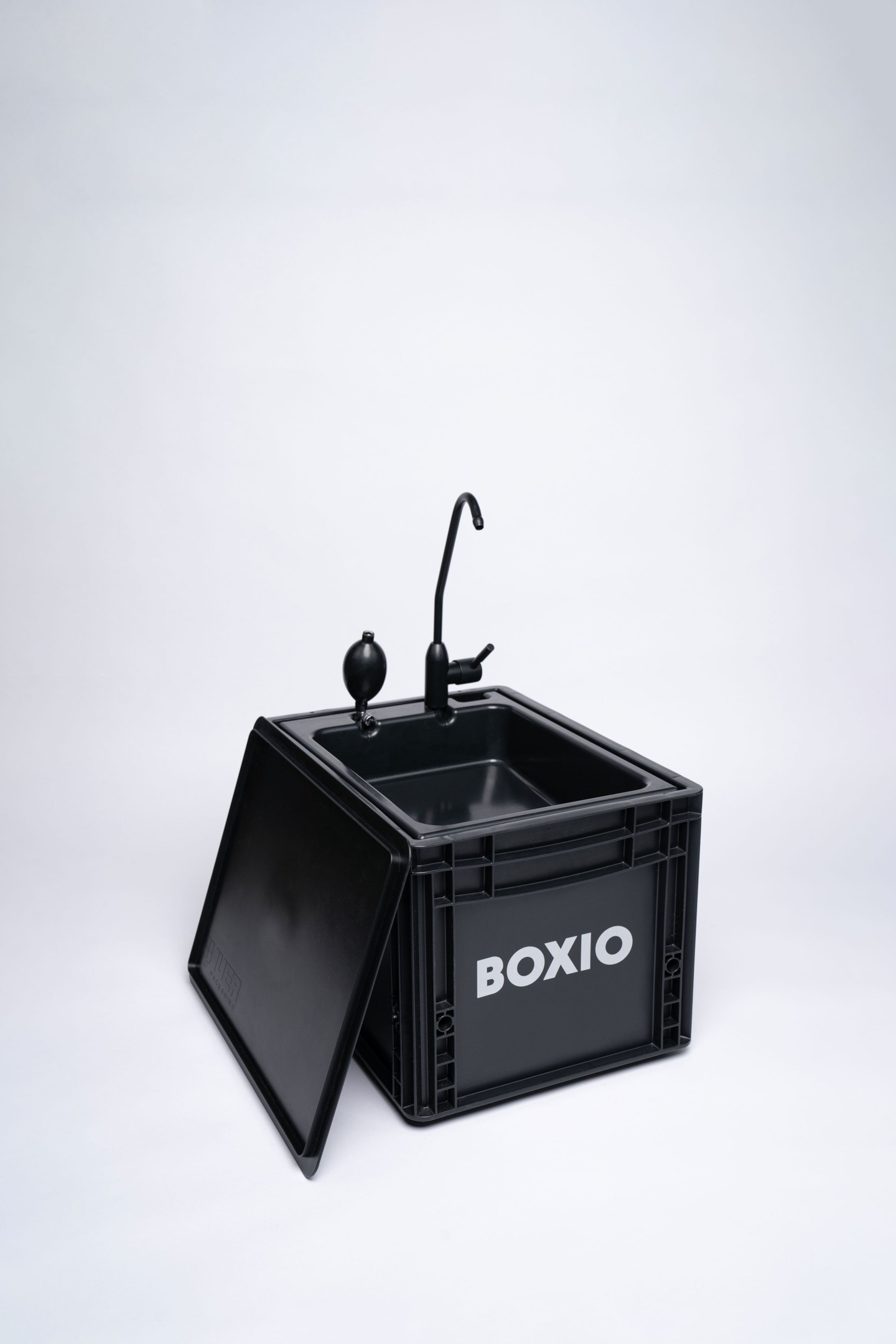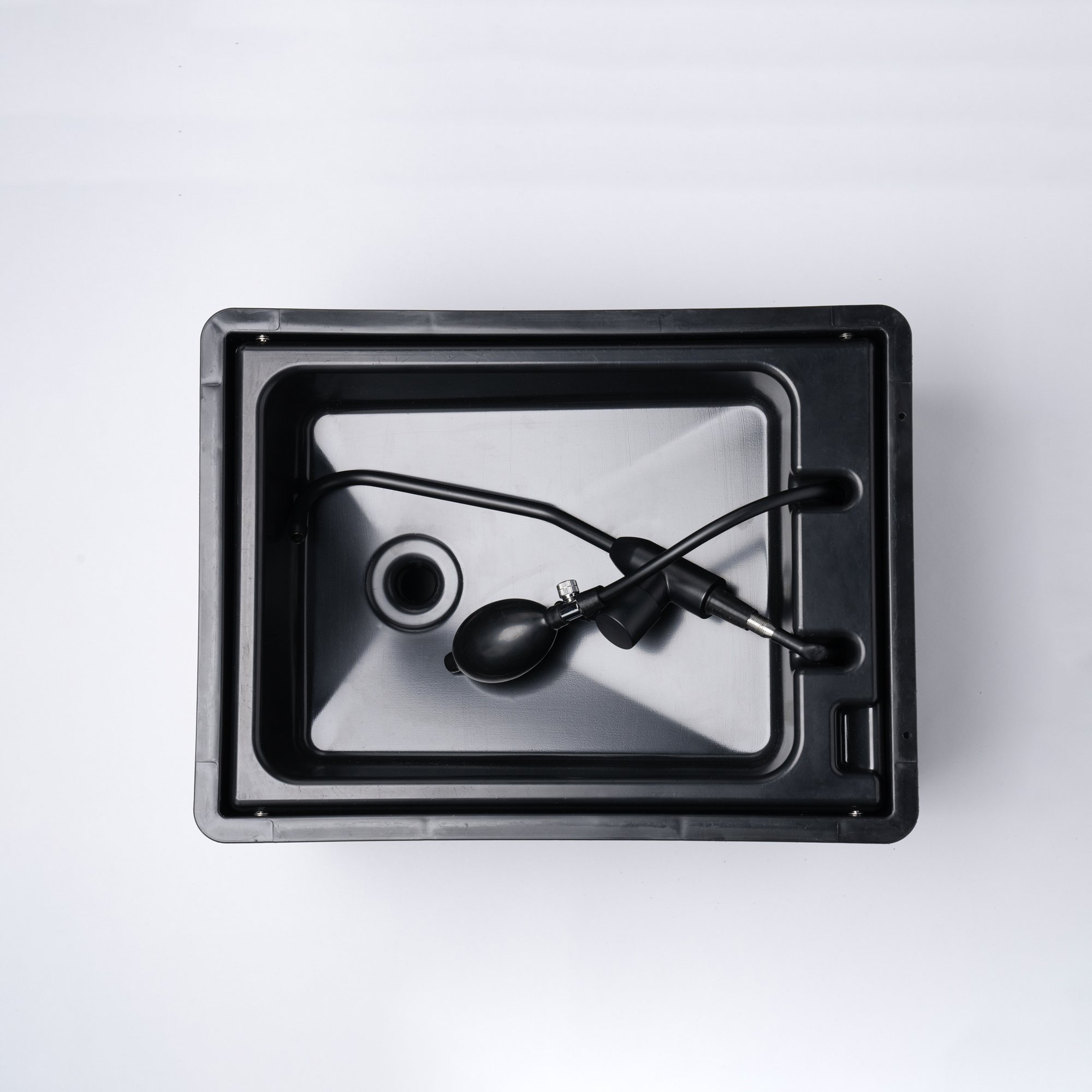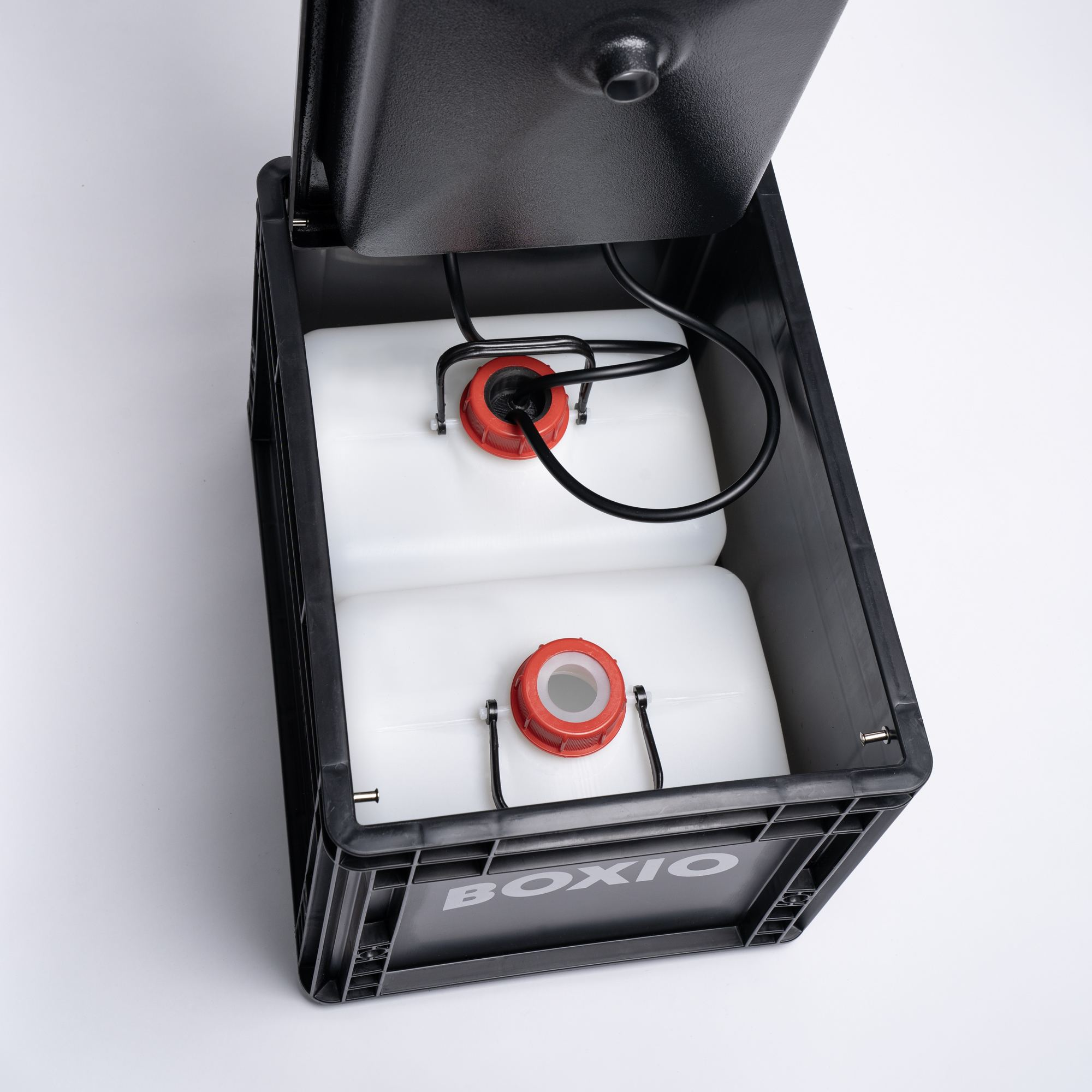 A mobile washbasin that does not require any electricity or water is a gift for health. Because not only since Corona we know that hand washing is the simplest and most important protection against infectious diseases. We at BOXIO have dedicated ourselves to the "hand-washing-is-difficult-on-the-go problem" and developed a well thought-out, practical solution.
How does the BOXIO-Wash work?

"Never change a running system", that's why we used the compact Eurobox of the BOXIO-Toilet also for our BOXIO-Wash. Stylish design in black, easily stackable, space-saving and easy to use.

Inside the Eurobox are two canisters: one for fresh water and one for waste water, and a hose system. With the help of a small hand pump you build up overpressure and water runs as soon as you turn on the tap or stops running when you turn off the tap. You can use the mobile wash basin like the hand wash basin at home. When you don't need it anymore, you release the pressure at the valve of the hand pump, fold down the small pump and the fitting and put the lid on your wash box. Now you can sit on it or stow it away.

The BOXIO-Wash is the convenient and hygienic way to wash your hands anytime and anywhere: without water or electricity.