Cooking and eating outdoors is a highlight for many when camping or doing outdoor activities. But who hasn't experienced this: after the meal, pots, pans and dishes pile up and need to be cleaned. Without a dishwashing facility, this task is often difficult and unhygienic. That's where a camping sink is worth its weight in gold. It is a practical solution to clean dishes hygienically and conveniently even in the open air. In this article you will learn more about how versatile you can use camping sinks and what you should look for when buying them.
Camping sink: In the camper and around the camper
Camping sinks come in a variety of designs: some are permanently installed in the camping kitchen, while others are mobile. We'll focus on the mobile version in this article, since it lets you wash up wherever you want. This means you don't have to be stuck in the camper doing the dishes while the warm summer night keeps calling you outside. In addition, the great advantage of a mobile sink is that you can also use it for other purposes. You will be amazed!
Mobile Camping Sink: Can be used in many places
✅ In the camper, a sink is one of the feel-good basics. So you can wash your dishes self-sufficiently, whenever you want. If you also buy a mobile sink, it can be stored in between, giving you more work space in the camping kitchen. You can also decide where to do the dishes, depending on your mood.


✅ At festivals, a mobile camping sink is a real survival tip. You can always clean your dishes and your cooking or grilling utensils. On top you always have a seat with you. Or if you're less tall, you can even repurpose the sink as a stool.


✅ When traveling by car, the camping sink always ensures the necessary hygiene -no matter what, you can clean it: your thermal coffee mug, your sports drinking bottle, your sticky or after a tire change oil-smeared hands.


✅ At picnics and BQQs in the park, you'll make an impression if you've even thought of the handy camping sink. No I-smear-my-hands-on-the-napkin-but-they're-still-greasy. And no we-throw-all-the-dirty-dishes-together-and-care-about-it-at-home, which nobody wants to do anymore anyway.


✅ A sink is a must in vending carts, food trucks and the like. Did you know that the choice of your sink or sink system is a space issue in two ways? Firstly, in terms of the storage space in the truck and secondly, where you may additionally stand with your sales truck. If you don't want to be tied to a drinking water and waste water connection, then with a mobile (camping) sink you are freer to choose your parking space.


✅ In the allotment garden, you finally no longer have to shuttle the dishes back and forth between the garden and home to clean them. With the mobile camping sink you can wash up directly on site and without illegally producing waste water. This is ensured by the drinking and waste water canister. Hand washing is also a fine thing with the camping sink.

✅ On construction sites, you can do without disposable dishes with the mobile camping sink. So you avoid unnecessary waste and protect the environment. In addition, the sink is also a real boon for washing your hands after going to the porta-potty.


✅ In the garage, you and your buddies like to screw, drink beer or just hang out. Complement your retreat with a camping sink that gives you the water access you've been missing.


✅ At home during a power outage/blackout, washing up with the mobile camping sink remains convenient because you don't have to awkwardly lift a canister over and over again to pour it over your dirty dishes; instead, you can turn the faucet on and off as usual. This little bit of normalcy when washing up can help reduce stress in what is already a tense, exceptional situation. That's why the camping sink belongs on your crisis preparedness checklist.


✅ When fishing, camping and barbecuing can be super combined. It's handy to have a compact camping sink right at hand. You can wash your fish after gutting it and wash the dishes after a delicious meal.


✅ Dirty dishes will not pile up on the boat during a day trip or a trip lasting several days if you have taken precautions with a mobile camping sink. In addition, you can also use the sink directly as a sink for washing hands.
Advantages of mobile camping sinks
Portable and easy to transport


No electricity or water connection required


Hygienic solution for on the go


Suitable for indoor and outdoor use


A mobile camping sink solves the bottleneck anywhere
What you should look for when buying a camping sink
🔝 Sustainability means conserving resources. Therefore, when buying your camping sink, look for durability and recycled materials.


🔝Transportability allows you to use the camping sink depending on your gusto in- or outdoor and to take it with you in many places.


🔝 Stability is important so that the mobile camping sink is stable, so that you do not accidentally flood the camper when rinsing.


🔝 Compact format ensures that you can use the camping sink space-saving and then stow it away. In addition, you can easily pack it on the luggage rack of your motorcycle or bicycle, as well as simply clamp under the arm.


🔝 Sufficient filling quantity is possible if the water canisters of your mobile sink are large enough. This way, you will need to fill up the water as well as empty the waste water tank less frequently. This means that an uninterrupted rinse cycle is easily possible!

🔝 Assembly should be lightning fast and easy so that you like to use your camping sink often.

🔝 Accessories must be purchased for some sinks for campers - for example, pump or faucet. Therefore, make sure to buy a well thought-out complete solution.

🔝 Easy to clean means wash out with a cloth and some dishwashing liquid, done. The material plastic is particularly suitable here, so that you can keep your camping sink super easy clean and attractive.
BOXIO-WASH: The Camping Sink in Eurobox Format
The BOXIO-WASH is a gift for all outdoor enthusiasts, because the camping sink comes completely without electricity and water connection, so you can use it anywhere and take it with you. In addition, all parts - such as water canister, waste water tank, pump, faucet - are housed in the compact Eurobox format. The advantage of this is that you will never again have to fiddle around with two sink bowls, because everything is in one box - fresh water and waste water included.
How does the BOXIO-Wash camping sink work?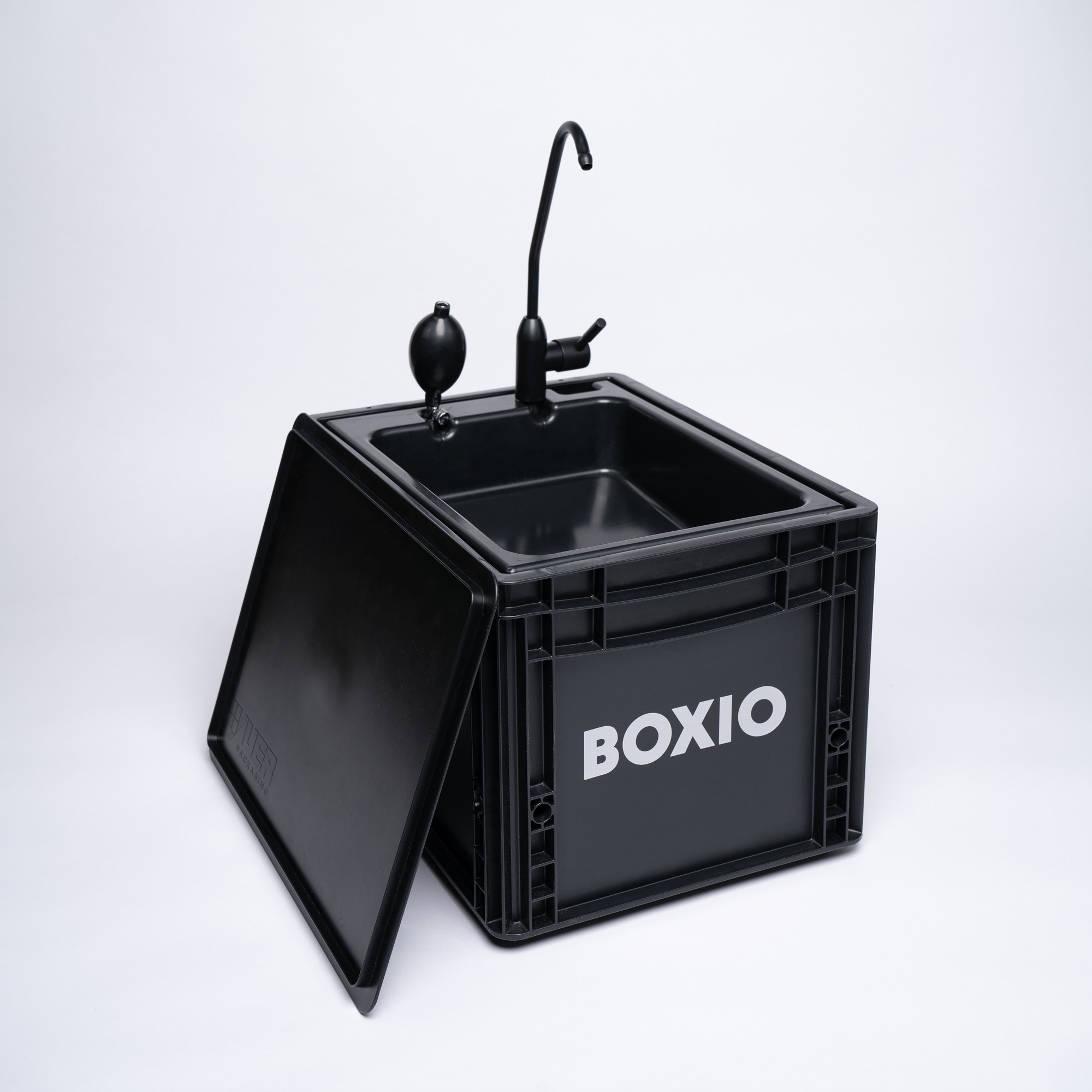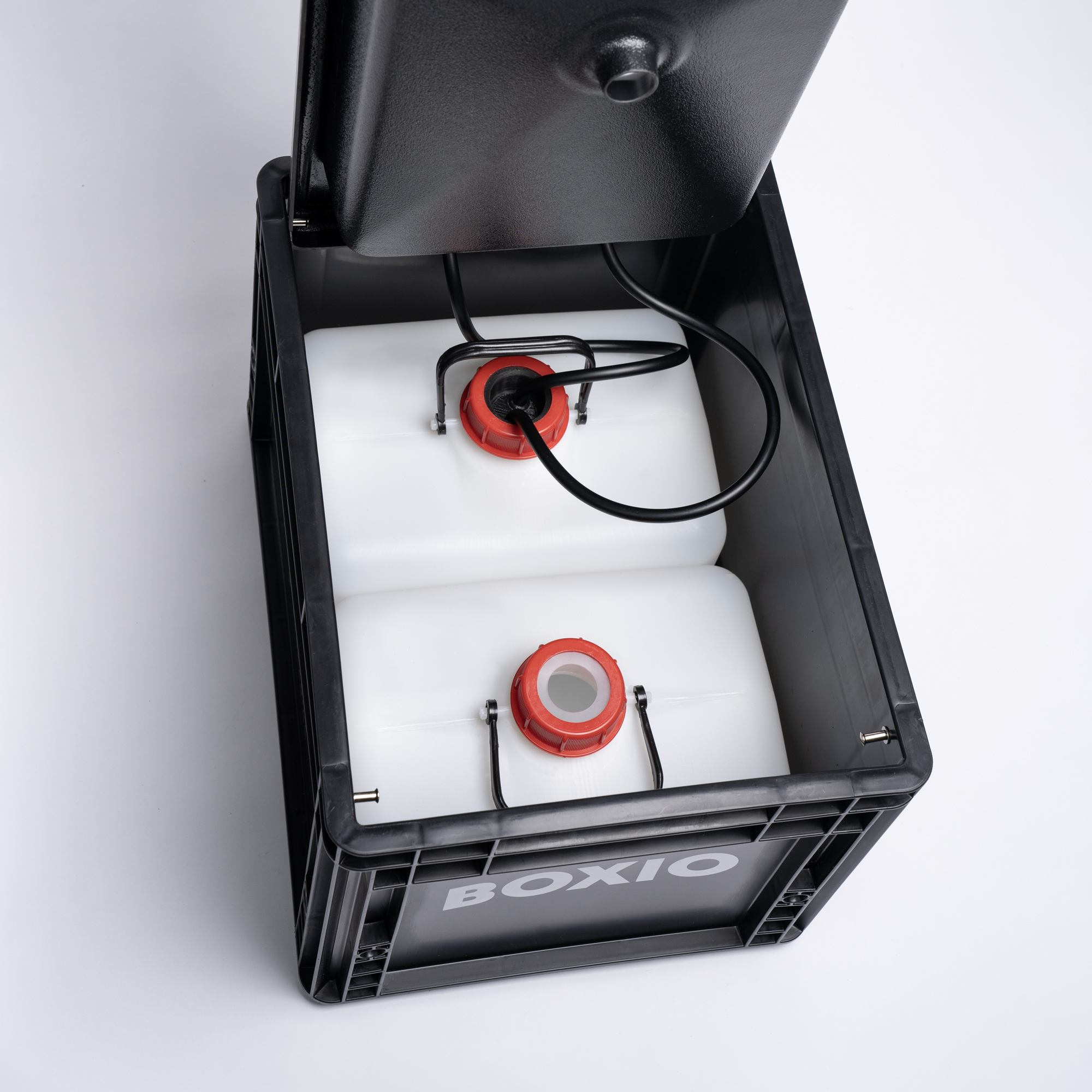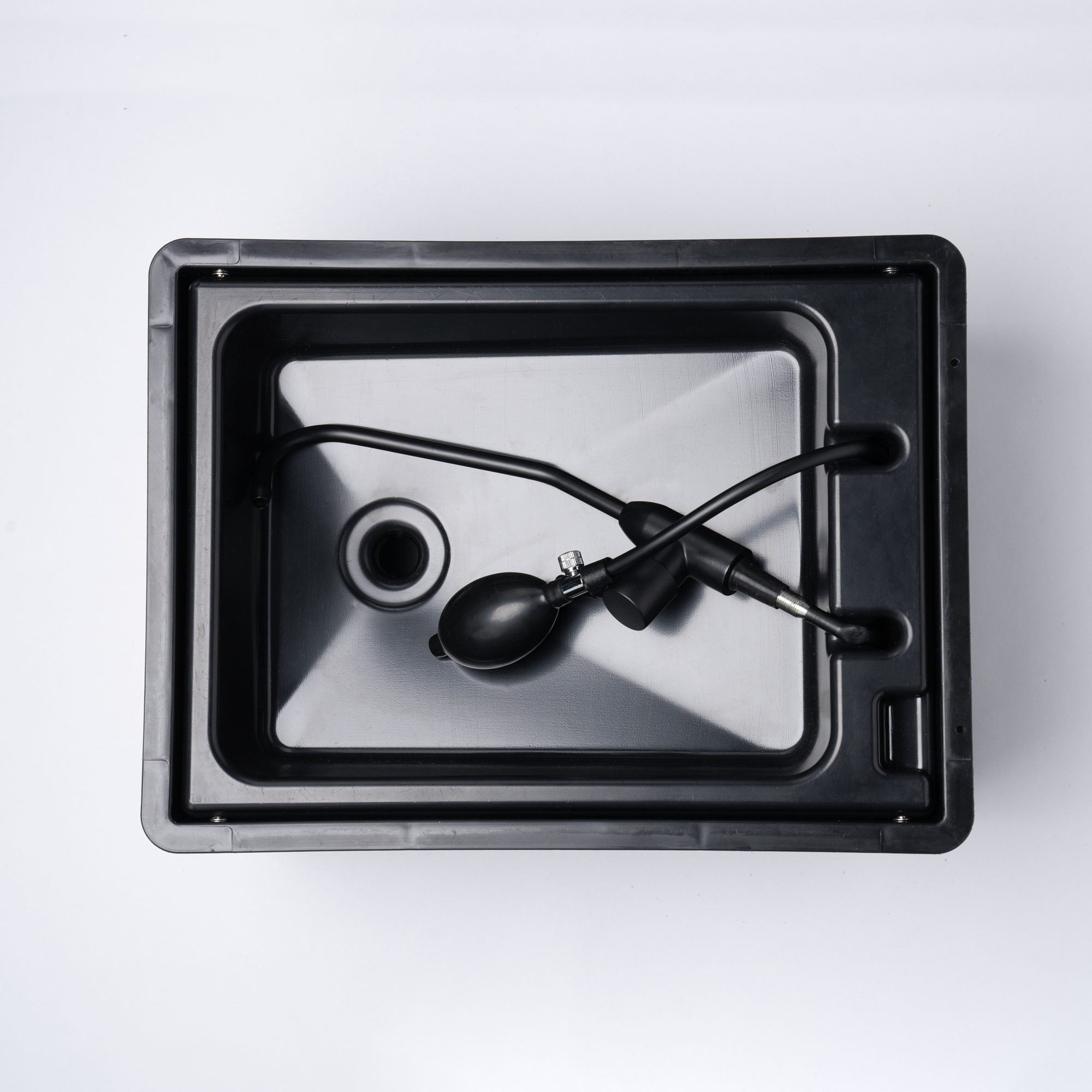 Inside the Eurobox are two canisters: one for fresh water and one for waste water, and a hose system. With the help of a small hand pump, you build up overpressure and water runs as soon as you turn on the tap or stops running when you turn off the tap. After rinsing, you let the pressure escape at the valve of the hand pump, put the small pump and the fitting around and close the lid of your camping sink. Now you can sit on it or stow the BOXIO-Wash and just be happy how easy washing up has become for all outdoor fans.