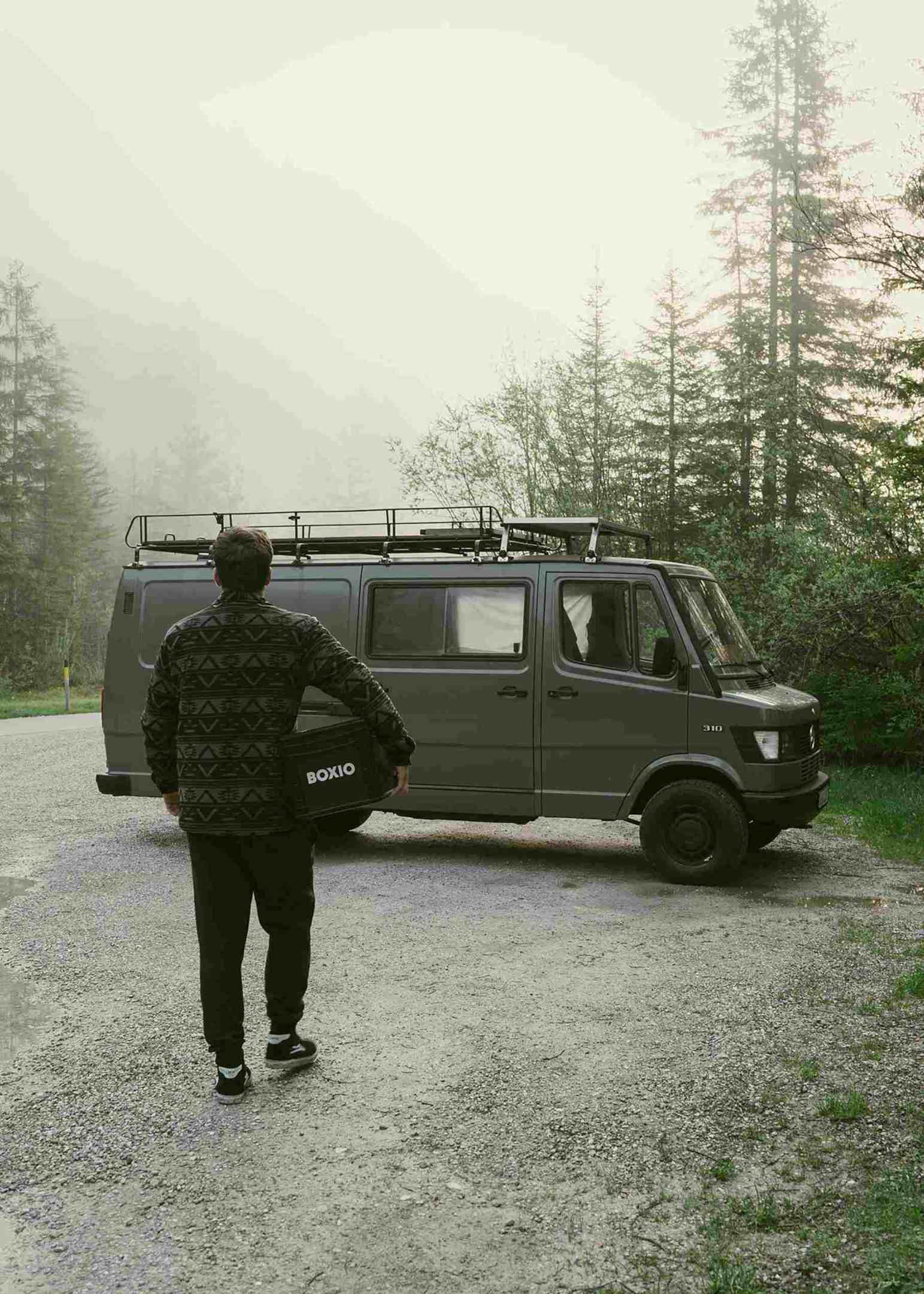 "Self-praise stinks" and since we at BOXIO do everything we can to prevent odors in the first place, that doesn't suit us either way. We are interested in the opinion and feedback of our community. What are your BOXIO experiences? What is your test verdict? We asked almost 2000 people and share the results with you in this article.
BOXIO toilet experience: Practice test study
We at BOXIO wanted to create an environmentally friendly toilet solution for camping. And additionally promote the independence of campers so that they are not tied to sanitary facilities.

You have "done business" on our compact BOXIO composting toilet and tested it extensively. And not only that, you compared. What did you find out?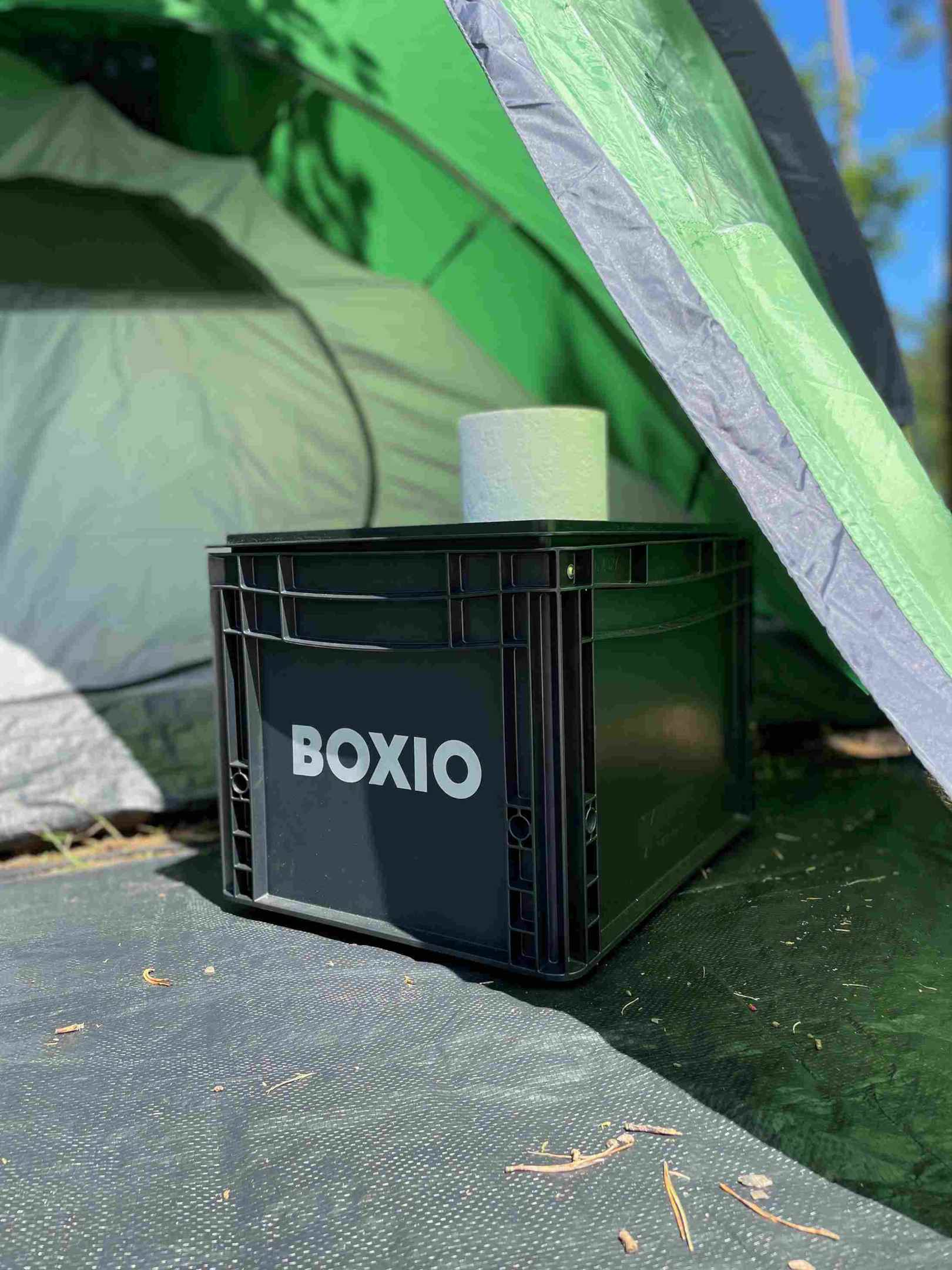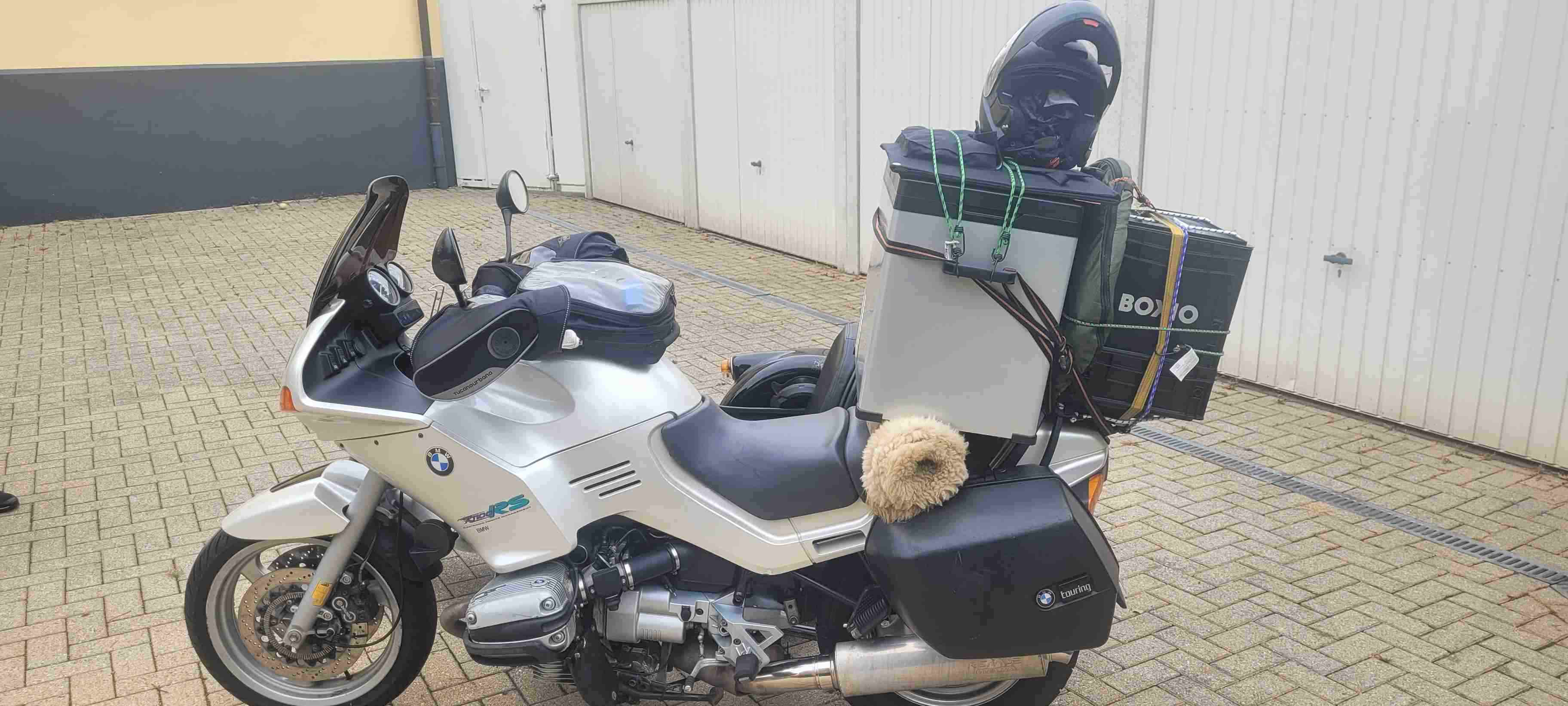 In your BOXIO experiences and evaluations you have named thirteen criteria and judged them as follows:
💶 Price: Compared to other composting toilets yours is cheap. While the BOXIO costs 150 euros, comparable models are 400 - 600 euros.

🚀 Ready for use: attach 4 small screws, pull a ribbon through and insert the compostable bag, that's all there is to it. So the BOXIO is ready to go in under 10 minutes.

💪 Load capacity: The BOXIO toilet can withstand 150 kg and is therefore very stable.

🪶 Weight: At 3.9 kg, the BOXIO is so light that you can quickly pack it under your arm and do your business with the best view. So there is no longer any reason to "pollute" nature with your own leftovers.

🌱 Sustainability: Chemical toilets no longer work at all, because they pollute the environment extremely. Thanks to your BOXIO, there is now a convenient, chemical-free solution. We also like the fact that the composting toilet is manufactured entirely in Germany and is also made of recycled plastic.

💩 Capacity: The urine canister and the waste container each hold 5 liters. This is enough for eight to ten toilet trips. We usually have to empty the urine tank earlier than the waste tank, but from our experience you can get by with it for two to three days. For reasons of hygiene, we always empty the waste tank at the same time anyway.

🪣 Transport: Thanks to the membrane on the lid of the urine tank, the canister is leak-proof even when driving over potholes. "I once tipped the BOXIO over in the T5 and still nothing leaked out." 😅 🔝

🫧 Cleanliness: In composting toilets, which are set in plywood, nothing should tip over or if the stool is sometimes less solid also nothing splashed on it. Because that pulls into the wood, swells and is difficult to clean. That is super with your BOXIO. Everything is made of plastic and can therefore be perfectly wiped out with water and biodegradable detergent. If you want, you can even use a steam cleaner.

👃 Smell: We are positively surprised and would not have thought it: but we have smelled nothing. 💡 A tip from other users: So that even with thin whistle no smell is formed, use a little more bedding!

🚽 Seating comfort: The seat height is a bit low on the BOXIO. This is unusual, but it works. But you can increase the seating comfort with the additional box for elevation. This can also be ordered in the store. You simply stack the BOXIO on top of this box and the seat height fits. The BOXIO TOILET-UP is also so practical because you can store the accessories for the composting toilet in it. You can pack in: half a toilet paper roll, two packs of litter and the bags for the solids container. All in all, the seating comfort is not quite like at home, but we would give it 8.5 points out of a possible 10.

👨‍🎨 Design: The black Eurobox does not stand out at all as a toilet. We like it very much. We often use it as a stool to sit on or the kids use it as a ladder to get to something in the camper.

◾️ Compactness: The small BOXIO is ingenious for storage. I was particularly attracted by the small size, since I have little space in the camper. Fits in any case in any vehicle.

🎞 Story: The founding story made me smile. I pictured how Arvid's many prototypes allowed friends and family to conduct countless transactions. Wonderful!

Another voice: I especially liked the picture of the entire team, it makes the whole purchase very personal.
BOXIO composting toilet: How about your satisfaction?
To find out, we asked you the following:
How satisfied are you with your BOXIO?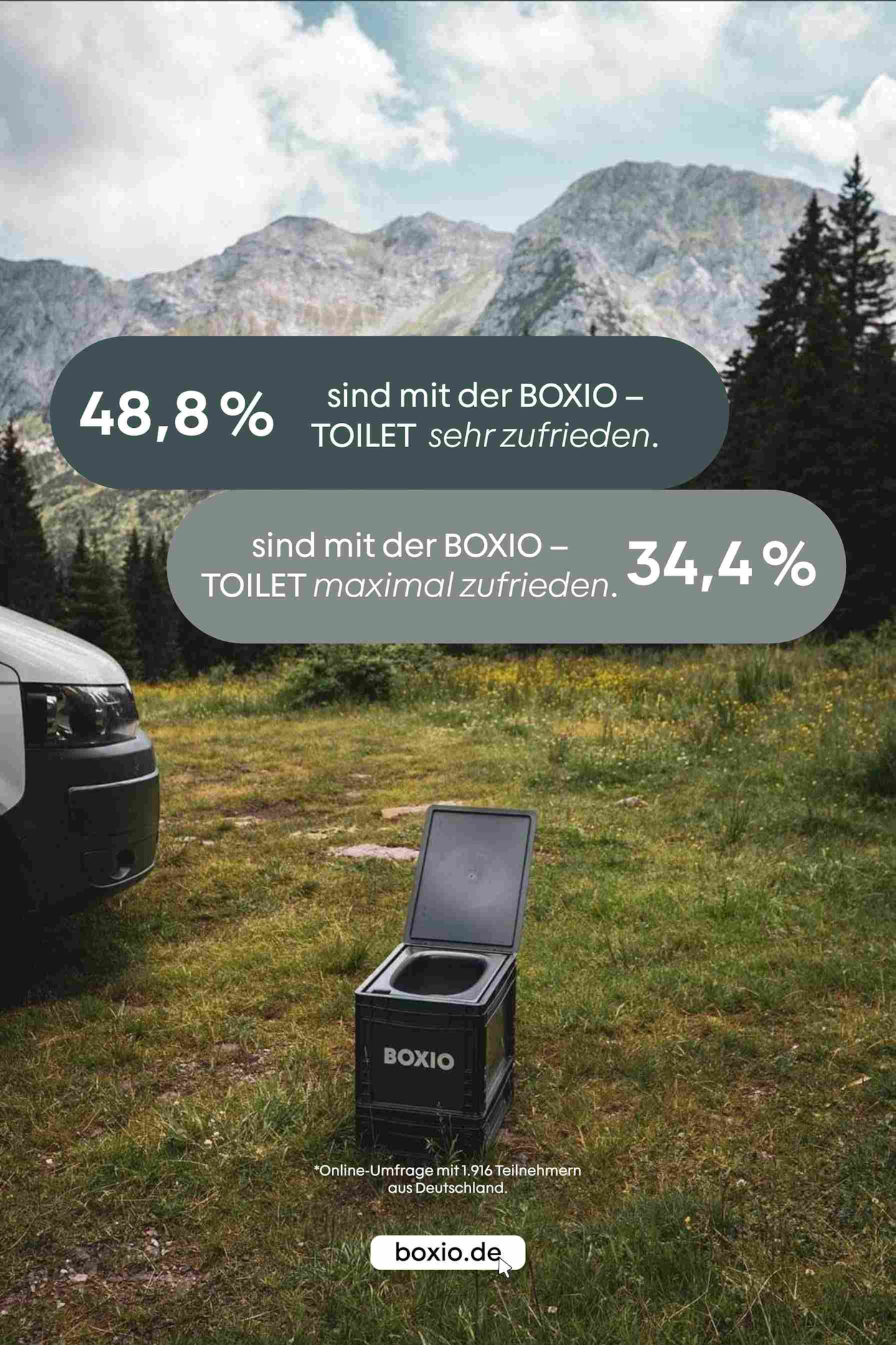 On a scale of 1 to 5, 34.4 percent of you (which corresponds to 647 responses) are maximally satisfied and 48.4 percent are very satisfied.

How likely is it that you will recommend BOXIO to others?

More than half of you answered with a clear "definitely" and almost one third with "very probably".

Have you already recommended BOXIO to others?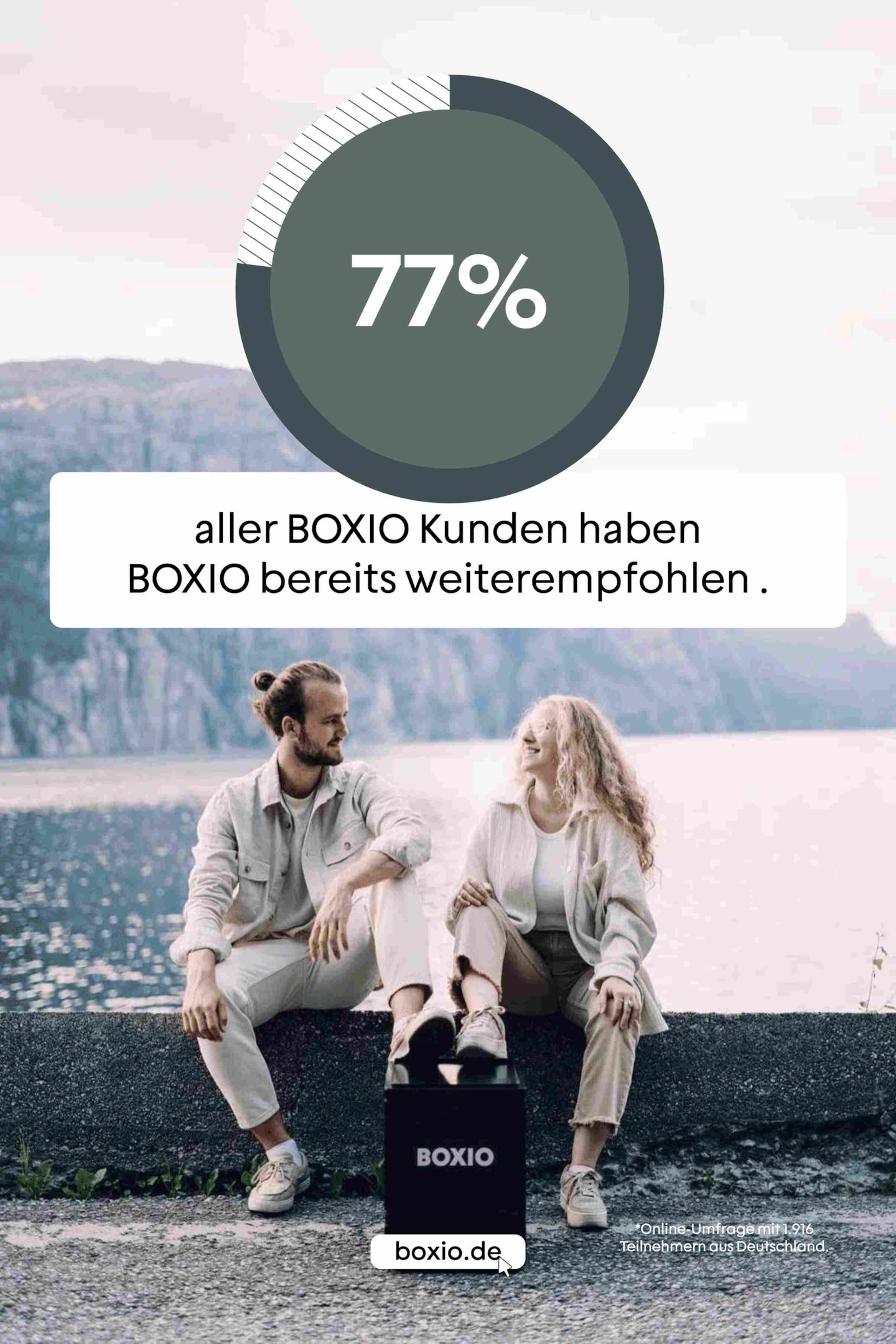 77 percent of you have already recommended the BOXIO toilet. Many thanks for that!

What is your conclusion after you have tested the BOXIO-Toilet?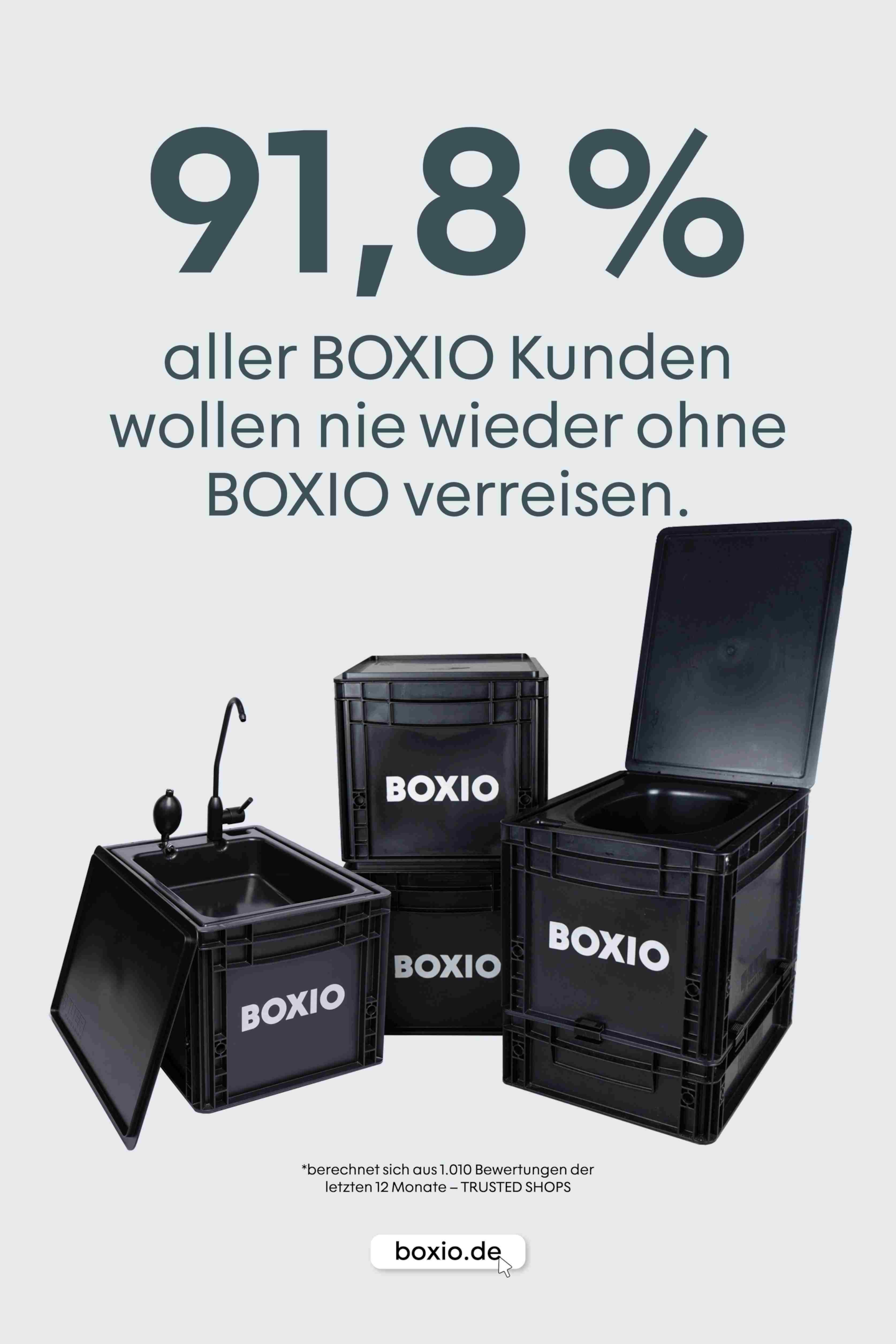 You are like us: "Once BOXIO always BOXIO!" That's why 91.8 percent never want to travel without BOXIO again.

What can the BOXIO team do better?

The majority of you answered with "shorter delivery time". To all of you who waited a little longer for our BOXIO-TOILET, we would like to apologize and thank you for your patience. We were in our first year of sales and have now optimized some processes to ensure fast delivery times. Thank you very much for your support!
Conclusion: BOXIO composting toilet: What do the statistics say about your satisfaction?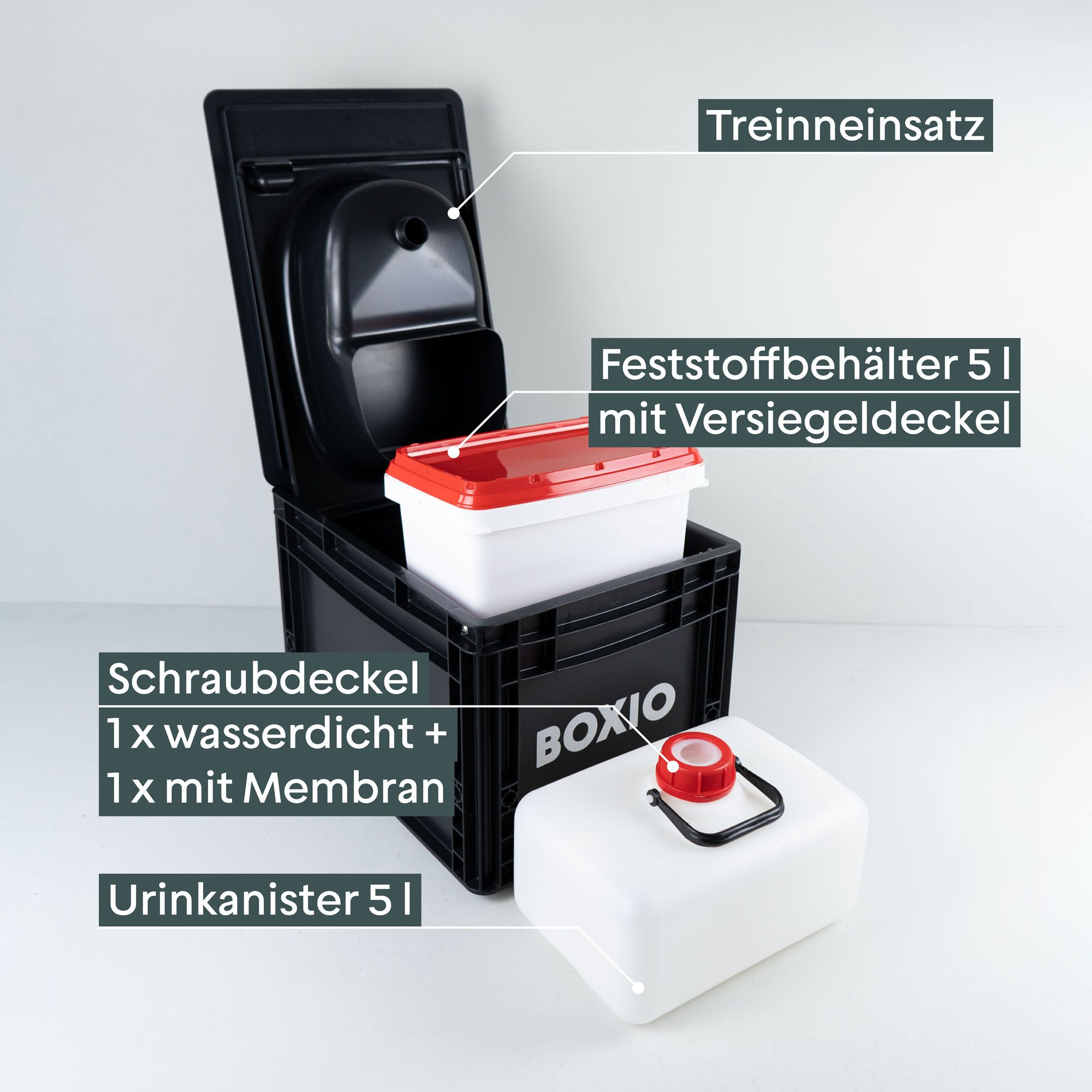 Both your positive experiences with our BOXIO-TOILET and your optimization ideas inspire us. Firstly, we are encouraged that we are making the camping world better with our product. And secondly, we are inspired to develop ourselves and our product further and to manufacture more camping products.

We are grateful that we have been able to turn what for many campers is a tiresome, not to say "crappy" issue, into an environmentally friendly, comfortable solution that you like. You are with the BOXIO unbound and free of sanitary facilities - nothing stands in the way of your self-sufficiency!
FAQ: Everything about the composting toilet

Which dry composting toilet is the best?
The compact BOXIO toilet is the best dry separation toilet.
Where to put the urine from the dry toilet?

The urine canister can simply be emptied in the nearest public toilet or at home. Alternatively, the urine can be used as fertilizer in the garden in a mixing ratio of 1:10 with water.
Why does a composting toilet not smell?
The separation of urine and solid waste prevents the formation of ammonia and other gases. These substances are responsible for the formation of odors.
How to use a dry toilet?

A dry toilet is used like a normal toilet. Lift the lid, sit on the toilet seat and "do". The toilet is designed so that urine flows into the front of the canister, and the large residues fall into the solid container. Into this you also throw the toilet paper, as well as the litter.

What toilet in the allotment garden?
A composting toilet is best suited as a toilet in the allotment garden, because no waste water is produced. In addition, no odors are produced and disposal is simple.
What toilet paper for composting toilet?
Any toilet paper is suitable for the composting toilet.

What toilet is allowed in the garden?
Camping toilets like composting toilets are allowed in the garden. What is not allowed are normal flush toilets like at home, because they produce waste water. Also prohibited are septic tanks.
Why dry toilet?
The dry toilet is particularly environmentally friendly, as it does not require any chemicals at all. In addition, no odors are formed due to the separation of liquid and solid residues. In addition, the dry toilet is easy to clean.